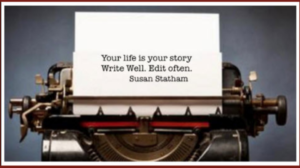 "EDIT YOUR LIFE FREQUENTLY




AND RUTHLESSLY.




AFTER ALL, IT'S YOUR




MASTERPIECE!




                                      -Nathan W. Morris
Shirlee (my wife) sent me the above quote earlier this week.  Ironically this past Friday I had the opportunity to hear former Pittsburgh Steeler All-Pro and four-time Super Bowl winner Rocky Bleier share how he edited his life "Frequently and Ruthlessly", and how he used these "editing" opportunities to create his own masterpiece.  As many of you know, Bleier was a member of Notre Dame's '66 NCAA Championship Team.  He captained the Irish in '67 and was drafted by the Steelers in the 16th round the following year.  He made the team only to be drafted again in November, 1968, this time by Uncle Sam.  Six months later he deployed to South Vietnam, and in August, 1969 sustained wounds for which he later received a Purple Heart and the Bronze Star.  While recovering at a hospital in Tokyo, doctors told him he would never play football again.  After several surgeries he was discharged from the military in July, 1970.  Rocky decided it was time to edit the life-story his physicians had envisioned for him.  Immediately upon returning to the States he rejoined his Steeler teammates and began informal workouts.  He weighed only 180 pounds.  He was placed on injured reserve for the 1970 season and played on special teams in '71.  Bleier dedicated himself to making whatever "edits" needed to make his comeback.  He spent '72 and '73 trying to get increased playing time, but was unsuccessful.  He never gave up, he simply kept editing.  In '74 his edits paid off.  Bleier reported to camp at 212 lbs. and earned a spot in the Steelers starting line-up.  He would be the third member of a legendary backfield that included Franco Harris and Terry Bradshaw.  Rocky Bleier worked hard, made edits to his story, and created the masterpiece he knew was within!  Bleier retired following the 1980 season.  He was the Steelers

'

 fourth all-time leading rusher with 3,865 rushing yards.  He also had 136 receptions for 1,294 yards, 25 touchdowns. and four 

Super Bowl rings. 
Bleier never gave up and worked hard so that some time in the future he would not have to ask himself, "What if?"  His life-story was edited a number of times by circumstances beyond his control, but he responded by making his own edits.  Think about it.  What was he really doing?  He refused to let others create his life-story!  Bleier had a vision for his life.  He knew what he wanted and he knew that its achievement would not occur without a journey; a journey that required him to adapt and adjust to circumstances that were often beyond his control.  We each have that same power.  The power to make an edit or series of edits that will let us create the life story we want.  Sounds easy doesn't it?  Make a few changes, edit some aspects of our lives, alter a few others, and then watch the masterpiece emerge.  So how can we start?  By transforming our story.
Dr. Tim Wilson, a social psychologist at the University of Virginia believes that we all have a story and that this narrative plays a significant role in how we approach situations in our life, other people, and our own self-concept.  "Our experience of the world is shaped by the stories we tell ourselves and our interpretations of them."  While we cannot change our life history (family members, experiences, genetics, etc.), how we react to them and weave them into our personal narrative is of our choosing.  As we initiate our transformation, Wilson suggests three considerations:
Assess Who You Are – Ask yourself, "What is my story and what would I like to change?" Take time to really think about who you are, what you have, what is missing, what needs to be improved, and what you want your future to look like.  An important part of this component is resilience.  Realize that you can rise above challenging times and a challenging past by taking steps toward positive change.
Identify the Changes You Want to Make – Ask yourself, "What do I need to change about my current story to create the life I want?  Perhaps it is a routine, or a habit that needs to be addressed. Maybe there is an area for improvement that needs a concerted effort.  Identify the changes you want to make and recruit those you can count on to provide feedback regarding your efforts.
Continue to Revise As You Go Along – As you rewrite your story, take time out on a regular basis to remind yourself that you always have the ability to revise your story.  Remembering that you have the power to edit your narrative will make you feel stronger, happier and more optimistic about the life you are creating.  
Mark Kennedy's post ('Edit Your Life is Good Advice") in the Times Free Press provides an interesting perspective on editing our story.  From a writing perspective he reminds us that a story is made up of a character, a conflict, and a resolution.  So, coincidently, is human life.  When you begin to see the conflicts and the subsequent opportunities that come with resolution, you have begun to think like an editor.  Equally important, when the subject is complicated (much like life), good editors know that rewriting those early drafts is the most important part of the process. Like any other piece of writing, your life-story will be filled with numerous drafts.  As Rocky Bleier demonstrated, just write, edit, rewrite and repeat until you get it right and your masterpiece is ready.  
Embrace the Challenge