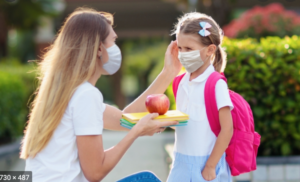 "Resilience is knowing 

that you are the only one 

who has the power to pick yourself up"
Our world is in a state of transformation!  A phenomenon referred to as the Fourth Industrial Revolution (4IR) — the marriage of physical assets and digital technologies—has been altering how and where work is done.   Automation, digitalization, artificial intelligence, and robotics are changing the work environment.  The impact of Covid-19; a disruptor that has accelerated change and led to the loss of several million jobs, many of which will never return, has created a sense of uncertainty.  Add to this the civil unrest rocking our nation, a sense of political and racial divisiveness that is all too evident, and a loss of the simple things we always took for granted, and we have a formula for stress, depression, and anxiety.    
According to the WorldBank, the COVID-19 Pandemic has compromised the education of 1.5 billion children.  The impact as they enter the workforce will be tremendous.  The Bank predicts that the current cohort of impacted students are at risk of losing $10 trillion in future earnings.  Many previously existing jobs have disappeared and will not return, and new positions – previously unknown – will be created. Young people will be the most affected.  Stress management, critical thinking, problem solving and tenacity are among the skills that young people will need to help them deal with the shock of this pandemic and other disruptions to come.  But the most important skill needed will be resilience, or what Angela Duckworth calls, "GRIT"
In 2018, the Global Business Coalition for Education (GBCE) published its landmark youth skills report, "Preparing Tomorrow's Workforce for the Fourth Industrial Revolution".  The report's authors suggested that the skill set needed by young people to thrive in this new work environment would be significantly different from that of the previous generation. 
The GBCE  highlighted four categories of youth skills necessary to compete in the 4IR: 
Workforce Readiness:  Will be fundamental to entry and success in the workplace, ranging from initial job search to maintaining continuous employment. 

Soft Skills:  Personal attributes, social skills, and communication abilities that support interpersonal relationships and interactions.

Technical Skills:  Knowledge and capabilities to perform specialized tasks. 

Entrepreneurship:  Knowledge and abilities that help create and build a workplace opportunity or idea.
In an updated report published last month, the GBCE added a fifth category:
Resilience:   The abilities, knowledge and attitudes that enable youth to not only bounce back from adversity but to 'bounce forward' towards a better future.  Resilient youth make for resilient communities, businesses and economies, and the first place they are going to need this skill is in school.
For many young people, the most significant disruption attributed to the Pandemic is its impact on education.  Our public schools are embarking on an unplanned experiment to reinvent the routines of education, whether that means meeting in a classroom, or learning outside or online.  Where students learn, how they learn, how learning will be assessed and demonstrated, are still unknown but we do know that resilience will be a factor that contributes to student success as we reimagine learning.  How can this be facilitated?
The good news is to be found in this generation itself.  Young people naturally bring numerous strengths to the table.  They are flexible, creative, and socially connected. Many are 'digital natives' and like to experiment with innovative solutions.  These skills will prove to be invaluable.

Help young people to build and sustain relationships.  Maintaining connectedness during times of disruption helps students feel safe and supported, thus enhancing resiliency.

Make a focus on adult self-care evident.  When students witness school personnel, parents and other significant adults prioritize their own self-care and healthy reactions to uncertain situations, they are more likely to follow the lead.  

Build resiliency through social and emotional learning.  This teaches students skills such as self-awareness, emotional regulation, flexible thinking, relationship building and responsible decision-making. 

Have high expectations which includes belief in the learners' innate resilience and self-righting capacities.  Use challenge-with-support messages ("I know you can do this"), and focus on the learner's strengths.
It is a new world!  The next few weeks and months are going to be challenging for all parties; students, parents and educators.  To the extent possible, relax, have fun, and trust the process!  Remember that working to maintain a positive and significant relationship with learners is the most important way to contribute to their resiliency.  In doing so, you are building the compassionate and creative citizenry that will thrive in a post-COVID world!
Embrace the Challenge!!