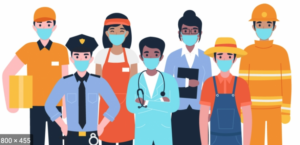 "A hundred times every day I remind myself

that my inner and outer life depend on the labors of other men, 

living and dead, and that I must exert myself to give in the same measure

as I have received and am still receiving!"  – A. Einstein
Monday is Labor Day; a rather unique holiday as it has no real political or religious significance.  Since its inception in 1882, Labor Day has served many purposes.  Celebrated on the first Monday in September, this observance was originally a creation of the labor movement and dedicated to recognizing the contributions and achievements of American workers.  In recent years, Labor Day activities focused more on pre-school shopping, family/neighborhood gatherings, and barbecuing.  Traditionally its passing on the calendar marked the last weekend of summer, a return to school and the beginning of football season.  Well, traditions change!  This year pre-school shopping is for virtual learning supplies, there will be fewer neighborhood gatherings and barbeques, and football season could be cancelled.
This coming Monday we need to celebrate Labor Day by once again recognizing the contributions and dedication of the American worker; especially those we now call, "Essential Workers".  These are the people who, since this Pandemic began and at great risk to themselves and their families, leave their homes daily to help maintain a semblance of normalcy for the rest of us.  These workers include, but are not limited to:
Healthcare workers who work in dangerous, exhausting conditions often without enough personal protective equipment (PPE), supplies, and resources to do their jobs. 
First responders who place their own lives in danger to render aid to those in need.
Grocery clerks and supermarket workers who do their best to keep the shelves filled and continue the flow of provisions to our homes.
Sanitation crews, street department workers and others who provide necessary services we rarely even think about.
Truck drivers and other transport workers who keep our goods moving through the supply chain.
Post Office workers, Fed-Ex and other delivery workers who continue to respond to the challenge of a world that has suddenly decided to do most of it shopping on-line.
This Labor Day, let's celebrate the dedication and efforts put forth by our Essential Workers.  A simple thank-you to your grocery clerk, a note for the mail carrier, or some cold refreshments for the sanitation workers are simple acts that can make all the difference for those who put their own health on the line for us every day.   What better way to let them know they are remembered and honored this Labor Day?
Embrace the Challenge!