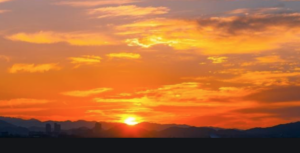 "It's always the darkest,
Just before the dawn."

                                                                                                          – Anonymous
I don't think so, actually I believe it is sometime around two in the morning depending on the phase of the moon and the time of year.  Okay, okay, I know it's a metaphor designed to give people hope in their darkest hours, but it's horrible.  Those moments just before dawn are actually breathtaking.   They are not dark, they are beautiful and inspiring.
Thursday morning we needed to leave early to babysit the Wolfpups.  My son had an early flight to catch and we needed to get a head start on the traffic.  It was still dark as we pulled out of the driveway, and not long into the ride, my wife mentioned how pretty the sky looked as the first hint of light hit the horizon.   The sun had not yet risen, and the moon was still visible. As the moments passed, the horizon filled with colors, and clouds became vividly outlined.  As I drove east on the turnpike, I watched a jet cross the horizon as it followed its landing pattern for Philadelphia International.  It's passengers were already seeing the dawn of a new day, but I still had a few moments to enjoy the serenity of the dawn.  I smiled at the prospect of what lay ahead; an extended day with the pups.  The nice weather would lend itself to time at the playground, an extended walk with Tucker, and maybe even a mid-afternoon cigar at the fire pit.  It was going to be a good day.  Then it hit!  As I came out of turn a bright sun made me wince.   Out came the sunglasses and the visor was adjusted; dawn had become day.   The colorful yellows and pinks that were part of the horizon were gone, and replaced by brilliant sun that now brought color and long shadows to the landscape and everything it touched.  It was a new day, but in those moments before the dawn I had not found darkness, rather, I focused on positive thoughts that would set the tone for the day ahead and served to inspire me.
We need to greet each dawn as a preview of the great things that await us.  Each day brings with it the promise of new beginnings.  It is a new opportunity to turn the sorrows in our lives into gratifications, to break the bonds of disappointment and seize the joy of life;  to put our losses behind us and embrace the good fortune awaiting us.  For many this will be a challenge; learning to leave  the failures of life—poor decisions, lost relationships, and unfortunate circumstances, in the darkness of the night, and greeting the new dawn with anticipation, enthusiasm and excitement, but it is one to be embraced.
In 1966, John Lennon and Paul McCartney penned the classic Beatles tune, Good Day Sunshine.  I love the first stanza, "Good day sunshine, Good day sunshine, Good day sunshine. I need to laugh, and when the sun is out, I've got something I can laugh about.  I feel good, in a special way, I'm in love and it's a sunny day."  Does every dawn lead to a sunny day?  No, but when you think about it, each new morning and our existence, is a God-given gift;  a continual opportunity to start life fresh every day, and put our past in the past.  Take advantage of it and
Embrace the Dawn
Embrace the Challenge