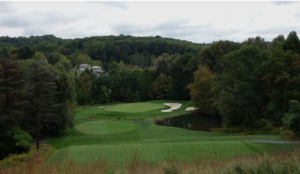 "You are never too old to set another goal or dream a new dream."

                                                  

   

-C. S. Lewis
I played in a golf tournament this weekend, and while I thoroughly enjoyed the company of the other players and the competition, the event itself made me pause and come to grips with reality.  You see, I'm not one to think of myself as old. As my friend Andy would say, "I'm a gross 67, but a net 28."  The tournament was the Senior Club Championship.  However when I registered the pro reminded me that I now qualified as a "Super Senior" (i.e my medicare card makes me eligible), and I would be able to compete for designation as the Club's Super Senior Champion.  I didn't win the championship, but I played some of my best golf.  
 A few years ago I came across an essay written by Ed Meadows, entitled, "Life,,,and then it is Winter".  I've made some modifications and share it with you this week.  You see, it's on the back nine of our lives that we gain an appreciation for all that we have learned, and it is on the back nine that we can derive enjoyment from a life well-lived. 
 The Back Nine –  A Modification of Ed Meadows work,  "Life…and Then it was Winter 
 You know, time has a way of moving quickly and catching you unaware of the passing years. It seems just yesterday that I was on the first tee.  I was newly married, had finished my Master's Degree and found a job as an Assistant Principal.  Yet in a way, it seems like eons ago.  I wonder where all the years went. I know that I lived them all. I have glimpses of my life's birdies, pars and bogies, of how it was back then, and of all my hopes and dreams.
 But, here I am, playing the back nine and it catches me by surprise.  How did I get here so fast?  My former students now stand at the bus stop seeing their children off to school.  They still say, "Hi Mr. Wolf", and when they tell their children I was their principal, the kids just say, "Wow!"  Where did the years go and where did my youth go?  For that matter, where did my hair go?
 I remember talking with and enjoying the company of colleagues older than me.  They shared their knowledge and provided some great insights that helped me avoid some of the courses' (life's) hazards.  These people were years away from me and I was only still playing the front nine. The back nine was so far off that I couldn't fathom it or imagine fully what it would be like.  Now I'm the one providing the insights to those playing the front.
 My colleagues and many friends are retired now.  We meet on occasion for breakfast (and always get the Sr. Citizen discount).  We talk about our health, the deals on Amazon, our grandchildren, and how everything is so different.  We move slower and I see older friends now. Some are in better, and some in worse shape than me, but I also see the great change. We are no longer the young, vibrant ones who coached, chaperoned, and skied on the weekends.  Our age is beginning to show and we are now those older folks that we never thought we'd become.
 So now as I play the back nine, I find myself hitting the ball twenty yards shorter, feeling the aches and pains that come with age, and finding recovery a little slower.  But I'm steadier in my later years, and I've learned to manage the course instead of letting it manage me.  While my loss of strength might not let me reach the green in regulation, my approach shot has more than made up for it.  More importantly, even though I'm on the back nine, and I'm not sure how long it will last, I always play the back better than the front.  With the back a new adventure begins!  It offers new opportunities.  Yes, I have regrets; there are things I wish I hadn't done, things I should have done, and indeed, there are many things I'm happy to have done. Reflection lets me realize that it was the experiences of the front nine that enable me to play better on the back.  Experience is a teacher that benefits you at a later time! 
 So, you're not on the back nine yet? Let me remind you, it will be here faster than you think.  Whatever you would like to accomplish in your life, begin now! Don't put things off too long!  Life goes by quickly. Do what you can today, as you can never be sure how much longer you will have to enjoy this round.  You have no promise that you will see all the holes on this course we call life, so live today like your game is going to be cut short. Say all the things that you want your loved ones to remember, and hope that they appreciate and love you for all the things that you have done for them in all the years past!
 "Life" is a gift to you, the way you live your life is your gift to those who come after. Make it a fantastic one.   Live it well!  Enjoy today!  Do something fun!  Be happy!  Have a great day and embrace the challenge the comes with each new hole.