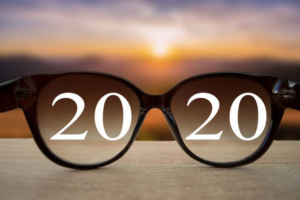 "Vision is the art of seeing

what is invisible to others."

                                                                                                    –  Jonathan Swift
We're not three days into the new year and I'm already feeling guilty, as I am about six months overdue for an eye exam.  To make matters worse I serve on a Foundation Board with my optometrist and we had a meeting yesterday.  Following the meeting and after exchanging New Year's wishes she stated, "I haven't seen you in a while, how's your vision?"  She listened politely as I struggled through an answer and then simply smiled and said, "Give the office a call and we will get you in quickly.  She's right, those yearly vision exams are important and I need to do a better job taking care of my eyes.  I'm getting older, and the days of 20/20 vision are a thing of the past for my eyes, but having 20/20 vision for 2020 and the next few years beyond is critical for any leader or organization that wants to be successful
Benjamin Hardy is an organizational psychologist and the bestselling author of Willpower Doesn't Work.  His December, 2019 post in Inc.com, "How to Have 2020 Vision in 2020" considers the importance of vision as a component of success.  Hardy proposes that to be successful, one must have a vision of the future.  Absent vision, we become directionless, waste time, and get sucked into distractions, leaving us feeling frustrated, overwhelmed, confused, and without purpose.  To gain a better understanding of the role vision plays in success, Hardy interviewed two giants of the entrepreneurial and marketing worlds, Joe Polish of the Genius Network and Cameron Herold, best-selling author of Vivid Vision.  They shared four focus areas that will enhance our ability to establish a clear vision as we enter a new decade.
Focus on Self-Care – Joe Polish uses the story of the "Million Dollar Race Horse" to illustrate his point.  The job of a race horse is simple; to win each time it runs a race.  If you had a race horse that earned one million dollars from each race won, how would you care for it?   You would provide the best nutrition possible, assure it received proper exercise and most important make sure it got proper rest and sleep. So why treat yourself any different.  YOU ARE THE MILLION DOLLAR RACE HORSE!  Don't treat yourself any less.  

Focus on Learning to Say "No" – Warren Buffet once said, ""The difference between successful people and really successful people is that really successful people say no to almost everything."  Most people try to do or take on too much. They confuse quantity with quality.  Better to focus and demonstrate an exceptional performance on a few tasks than perform many in a manner that reflects mediocrity.   When we say "No" to that which is not directly related to our vision, we focus.  Rather than scraping the surface of many different things, the goal is to go deep in a few.  This becomes true for projects, relationships, and groups. 

Focus on Growing Your Relationships –  Visions are rarely achieved independently.  The realization of any vision is normally the result of collaborative efforts rooted in strong relationships.  Hence, this is where we go deep.  Relationships take time, they do not develop overnight, but there are simple actions we can take that signal our investment in the relationship.  These can include:

Focusing on being there for the other person.  What can you do for them?

Investing your time, money and energy on relationships.

Being useful, grateful, and valuable.

Getting as close to being in-person as possible, but in all cases being present.

Avoiding formalities, being fun and memorable.

Focus on Sharing Your Vision – The late Paul Arden wrote, "Your vision of where or who you want to be is the greatest asset you have.  Without having a goal it's difficult to score."   Share that asset!  Sharing brings clarity.  When we share, our thoughts become words, words become actions, actions become habits, and our habits shape our character and destiny.  Sharing also enables us to become accountable.  When we share the vision we are telling people, "I'm all in!"
As we begin a new year and a new decade, let your vision lead the way!  Live your truth.  Be honest, open and transparent.  Practice self-care, learn to say "No", grow in your relationships and share your vision.  Remember, every masterpiece ever created began with a vision.  Let your vision become the basis for the masterpiece you will create in 2020.
 
Embrace the Challenge