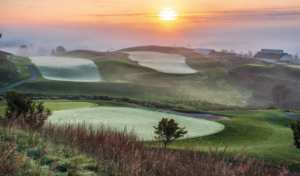 "Approach your day with a positive attitude; arms, heart and mind wide-open!"
Some have called me the eternal optimist! I routinely answer the question, "How are you?" with phrases such as, "I'm so good, I could be twins!", "I'm living the dream!", and my favorite, "I'm super good and getting better!" When I post an online Happy Birthday greeting, I like to remind the recipient that they are like a fine wine that only gets better with each year that passes. Essentially, I view each new dawn as an opportunity; to be thankful for all that I have today, to learn something that will be of benefit tomorrow, and become a better version of who I was yesterday.  
This optimism did not come naturally. It was introduced to me by my father, a WWII veteran whose generation was characterized by the traits of personal responsibility, integrity, humility, work ethic, financial prudence and faithful commitment. He believed that everyday was a day to excel. Strong in his religious beliefs, he was also a devoted follower of the positive thinkers of his time; Norman Vincent Peale (The Power of Positive Thinking), Dale Carnegie (How to Win Friends and Influence People), Napoleon Hill (Think and Grow Rich) and countless others. He truly believed that holding passionate positive expectations set the stage for achieving the personal and professional success that would let him care for his family. He shared this belief with "his boys", and made sure to start our days by reminding us, "Today is another day to excel!"
The apple didn't fall far from the tree. Through my teens and early 20's I read those same books and many others. At the age of 30 I attained one of my early career goals, I was named Principal of the Junior High School (today they are called Middle Schools) in the school district where I worked. I was also introduced to the idea of servant leadership through the writings of a man named Zig Ziglar. He espoused a simple philosophy, "You can get everything in life you want, if you help enough other people get what they want." His book, See You at the Top, became required reading for students participating in my "Positive Thinking Club". Together we came to understand how laying the foundation stones of honesty, character, faith, integrity, loyalty and love today, would enable us to achieve success tomorrow. We also let the phrase, "Super good and getting better", become a common greeting, both in and outside the school. 
The lessons learned from my father, the words of many authors and the influence of significant others brought me to an early realization; life is filled with choices and challenges, but it is our attitude that ultimately determines the actions we take and the path we walk. Perhaps that is why I never referred to that daily path I traveled as "work". I was doing something I enjoyed, something that inspired me, something that was fun; and to top it off, I was getting paid to do it! Unbelievable? Not really. Actually I found there were many others who approached each day with the same attitude, and one of the best places to see it in practice was to be found in Seattle. 
I was about to turn the big 50 when a friend gave me a book and said, "You have to read this, it sums up your outlook on life!" Entitled Fish, the book capsulated lessons learned at Seattle's, Pike's Place Fish Market.  It's message is simple and powerful, we each have the power to create positive attitudes and environments that will not only enable us to be more productive, but happier in our lives. This can be accomplished through four simple principles:
Choose Your Attitude– Each new day provides the opportunity to create the attitude that will guide your actions throughout the day. You might not be able to choose the task itself, but you can choose the mindset with which it is approached. Choosing a positive, success-oriented attitude will provide the energy & faith you need to guide you through the day. 
 Make Their Day – It's not about you, it's about serving others and doing something special for someone else. When we focus on helping others it gives us a different perspective on the issues with which we are challenged, and can result in greater creativity. Ultimately, making a positive difference in the lives of others makes us feel better, serves as an self-energizer, and sustains relationships.
Be There – Yesterday is history, today is your gift. The attitude you bring to it and what you do with it, will determine your success tomorrow. With that in mind, be present in today's moments. Worrying about the future and fretting about the past are wasted energy. Be fully engaged with your heart in whatever you do and whoever you are with. Thrive!
Treat Life Like Play – Enjoy whatever it is you do. Approach your day as you would play; looking forward to fun. Let your positive attitude bring energy to the tasks at hand. Remember, happy people treat others well. When we are having fun, time passes quickly and our lives become our reward rather than "our lot in life!".
In a few short weeks I will begin the eighth decade of this life. It has passed quickly, and I guess that's because I continue to enjoy it and have fun. I like to think of my life as a golf course, and I'm now on the back nine. I learned from the front, and am now using that knowledge as I play the remaining holes. I still have a few to play, and I look forward to each one. When this round ends, as they all do, I look forward to playing another course where I will continue to grow, learn and celebrate a new chapter in a new book! Hopefully Ben, Arnie and Gene will need a fourth. 
Embrace a Positive Attitude

Embrace the Challenge