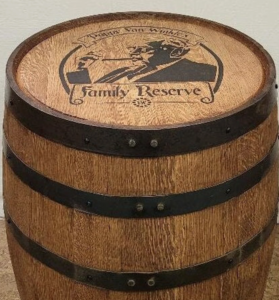 "Some things don't last forever,
but some things do"  – Sarah Dessen
I'm currently reading Wright Thompson's, Pappyland, a delightful book that chronicles how Julian Van Winkle III, the third-generation caretaker of arguably the most coveted cult Kentucky Bourbon whiskey in the world, Pappy Van Winkle, protected his family's legacy and preserved the taste of his family's namesake product; quite a feat in a world where authenticity is in limited availability.
My son introduced me to the book.  We were sitting at the beach and as he closed it said, You might want to read this Dad.  It's about Pappy Van Winkle Bourbon and the importance of making the trip. I soon discovered that making the trip was a metaphor for the process that lets whisky age in a barrel over time and emerge as a fine bourbon.  However, nothing is guaranteed.  The barrels can be stored for as many as 25 years, and there is nothing anyone can do to assure that things will play out as they should.  Interestingly, time is perhaps the most significant factor in the production of fine bourbons.  It is also the greatest enemy; time and air can destroy whisky.  Interesting, isn't it?  What something needs to survive can also kill it!
The title page of the book reads, Pappyland:  A Story of Family, Fine Bourbon and the Things that Last.  As I read more, I started to apply the idea of making the trip to my own life.  As a young adult, I was that blend of schooling, youth and optimism.  My barrel was the world in which I lived, the choices I made (good and bad) and the relationships I formed.  Here I am, fifty years later.  I made the trip and thoroughly enjoyed it.  I'll let others be the judge of the product's quality.
The trip has taught me the value of discovering what is truly important in my life, what transcends time, and what are the things that last.  The lesson came with a harsh realization; it is not until later in our life's journey that we come to understand that the things which are truly important in this life, are the things that last.  
What are the things that last?  And we're not talking about cast iron skillets, a good set of knives, my Ping putter or Zippo lighters.  It's different for each of us, but some common ones include:
Faith, Hope, Love –  Three things will last forever; faith, hope and love, and the greatest of these is love. (Corinthians 13:13)
Values –  Your personal values reflect what's important to you in life.  They shape your mindset and ultimately guide your decisions and actions.
Relationships – We have many types of relationships, be they fleeting or lifelong.  The important thing to remember is that the quality of any relationship, and subsequently its duration, is something we control.
There is one other thing that lasts forever;  Memories!  They can bring us both smiles and tears, and sometimes they are intermixed.  They remind us of the best of times and the worst of times, but they are never in the present moment.  They hold onto those things we wish would have lasted forever, and that which we would rather forget.  They are ours to create and ours to carry with us forever.  What memories are foremost in your mind?  What memories made the trip?  Here's hoping your life's collection brings you a sense of happiness and fulfillment.
Embrace the Challenge !