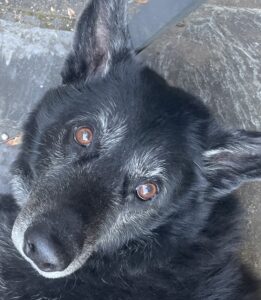 "Aging is an extraordinary process,
where you become the person you always should have been."
– David Bowie
For the past few days I've been Tuckersitting in Jersey while my son and his family are out of town.  Tucker is the family's dog, a Black Shepard/Korean Jindo mix.  He's about 11 years old and his muzzle and coat now include a distinctive grey.  He's still a big boy, weighing over 100 pounds, and like his sitter, he doesn't move quite as quickly as he did in his younger years.  It seems like yesterday that we would have to retrieve him after he dashed off the patio chasing a deer that had inadvertently wandered into the back of the property, but the reality is, it was yesterday that he simply raised his head and watched as a doe and her fawn walked through a stream near the house. They were aware of his presence, continually watching and making sure he remained in place.  It was as if they had heard the stories of the big black dog that lived near the stream, and they gave him the respectful attention he had earned over the years.
We just returned from a walk.  Tucker's pace is exactly what you would expect; slow and measured.  He stops periodically, to smell the roses and leave his mark.  He's still inquisitive and friendly.  His age is revealed when a younger dog crosses his path.  He simply sits on his haunches and watches as the pup barks and jumps about him.  Soon he settles and simply looks at the old dog.  I can't help but wonder if Tucker was simply sharing a lesson in energy conservation.
Ironically, just before leaving for the dog sitting assignment, I had another old dog moment; the opportunity to engage in a discussion with one of the more senior members of our Church's congregation.  Bruce is the Chair of our Investments Committee and I marvel at his skill in not only reviewing and analyzing Church finances, but his understanding of the various markets and more importantly the strategies being utilized by the investment firm that manages our portfolio.  I had asked him to review a recently received proposal to reallocate some of our investments.  After reading it he smiled, looked at me and said, "If I've learned anything in my 80 years, it's an amendment to that old saying, "You can't teach an old dog new tricks!" It goes like this:  "The older an old dog is, the tougher it is to pull the wool over his eyes!"  There is something to be said for age and experience.
Perhaps it's not about an old dog learning new tricks, after all, a trick is something designed to deceive or outwit.  Old dogs certainly learn, but what is more important is what they share.  Andy Rooney once said, "The best classroom in the world is at the feet of an elderly person."  Here's a sampling of thoughts from that classroom that will hopefully help you get through the next week:
For Monday – Be kind to people.  Keep your mouth shut, listen and learn.  Open it when you have a question or something good to say!

For Tuesday – Begin your day with music.  Start by singing in the shower.  Even if you're bad it will let you start your day with a laugh.

For Wednesday – (A little poem) – Walk and talk and laugh and pray, it will help you get through this day.  Whistle and sing and hum a tune, it will keep your stress adjuned!

For Thursday – Greet everyone you meet today with a handshake, eye contact, and a smile.  Say hello, ask them how they are doing and then listen!

For Friday – Be humble, remember how much was accomplished before you were even born!
I just looked out front and the old dog (Tucker) is taking an afternoon nap.  The years have rushed by for him, as they do for all of us.  He's in the autumn of his life and enjoying every moment.  As he looks back, I imagine he relives those moments chasing squirrels and deer that he could never catch, but he also remembers sitting in the yard and watching over the Wolfpups as they ran about and played.  He was and always will be their guardian and protector.  Life shouldn't be any different for us.  We have responsibilities, but in the autumn of our lives, we won't look back with remorse for spending too little time at work, rather we will wish for more time with family, socializing with friends, and engaging in favorite pastimes. Tonight when I take Tucker for a walk, he will extend it by taking many moments to smell everything along the way".  I may not follow suit, but the lessons of an old dog will not be lost; life passes quickly, don't let the years rush by without taking some extended walks and enjoying all life has to offer.  Sit Tucker….good boy!