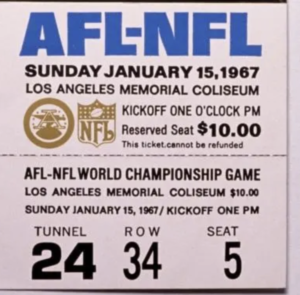 It's ridiculous for a country to get so worked up about a game – except the Super Bowl of course.  Now that's important   – Art Rooney
Good Morning!  Are you ready?  It's Super Bowl Sunday.  Here's a little history that provides some background on a championship game that has become an entertainment spectacle.
The first AFL–NFL World Championship Game, later to be known as Super Bowl I, was played on January 15, 1967, at the Memorial Coliseum in Los Angeles, California.  The NFL champion Green Bay Packers, led by legendary coach Vince Lombardi faced off against the AFL Kansas City Chiefs coached by Hank Stramm.
Ticket prices topped out at $12, but the game was not a sellout.  In fact, it stands as the only non-sellout in Super Bowl history. The contest drew 61,000 fans, but 31,000 Coliseum seats sat empty.  Ironically just one month earlier more than 72,000 fans had passed through the stadium's turnstiles to watch the Packers play the hometown Los Angeles Rams.
That doesn't mean the game went without viewership, as it was the only joint broadcast in Super Bowl history.  CBS held the rights to broadcast NFL games, while NBC aired the AFL games.  Both networks paid $1 million for the rights to televise the game and both employed its own broadcast crews. The game's simultaneous broadcasts reached just over 35 million viewers.  Ironically, the 15 million prospective viewers within a 75-mile radius of the Los Coliseum were unable to see the game, as NFL rules at the time required that its games be blacked out in the local vicinity.   It would seem that some things never change!
With two networks broadcasting the game, there was double the opportunity for ads. This year advertisers are paying an average of $7,000,000 to air a 30-second long commercial.  In 1967 companies including Budweiser, Ford, RCA, Chrysler, Goodyear, RJ Reynolds Tobacco, and McDonald's spent $37,500 for that same 30 second slot.  When adjusting for inflation, $37,500 in 2023 standards would be about $342,959 today.  The cost for advertising has certainly skyrocketed since that first game, likewise halftime has taken on a life of its own.
The hype has been out there for weeks; Rihanna will perform at this year's halftime.  While she is not being paid, the event provides the venue for her  long-awaited return to the stage.  It's estimated that her 13 minute performance will reach approximately 190,000,000 viewers.  At Super Bowl I, halftime still served a single primary purpose; to provide the players with some rest and let the teams regroup. The halftime performers for Super Bowl I included both the University of Arizona and Grambling State University marching bands, the drill team and flag girls from Anaheim High School, and trumpeter Al Hirt. 
A lot has changed in 57 years, but some things remain the same.  Families and friends  will gather to cheer-on their favorite team.  Food and drink will be in abundance.  And come Monday morning, there will be no shortage of quarterbacks ready to share their insights on the game, the ads and the halftime show.  Enjoy the game and,
GO BIRDS!