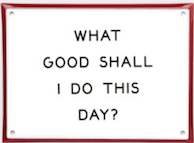 "Doing Good is a simple and universal vision.
A vision to which each and every one of us
can connect and contribute to its realization.
A vision based on the belief that by doing good deeds,
positive thinking and affirmative choice of words, feelings
and actions, we can enhance goodness in the world."
                                                                                                                                  -Shari Arison
Benjamin Franklin asked himself two questions each day. At the beginning he asked "What good shall I do this day?" At the end he asked "What good have I done today?" 
More and more we are seeing businesses across the country and around the world using this mantra and incorporating the idea of social responsibility into their long term vision, and in some instances taking quick decisive action rather than waiting for government direction.  Likewise, we also need to ask ourselves the same questions!
Harvard Business School Professor Rebecca Henderson believes we are witnessing a huge transitional moment in business with companies realizing that attention to the social perceptions of the company and the social consequences of their products is good business.  So why now?  There are three reasons.  First, millennials are taking on a growing and more significant role in the workforce. They are more likely to focus on the business' impact on the environment or society at large.  There is an expectation on their part that the company will have a positive social mission or a vision of positive social impact.  Secondly, and we saw this action taken recently by Dick's Sporting Goods and Walmart, there is a declining confidence on the part of business leaders (and many of us) that government will be able to step in and effectively fix some of our most pressing issues .  Addressing social responsibility is not simple.  Henderson recognizes that it is not easy to run a company and make payroll while simultaneously saving the world. She adds however, that there is evidence to support that socially and environmentally responsible firms (in some sectors and under some conditions) are at least as profitable if not more so, than their conventional rivals.  This leads us to the third reason for this transition, big-firm buy-in.  Larger firms like Apple, Facebook, Google and BlackRock are less subject to quarter to quarter pressure and to some degree have greater flexibility to use their market power to pursue social objectives.  In essence larger businesses can be the leaders in sustainability and impact the standards of an entire industry by having a trickle-down effect on their supply chains that then serves to lay the groundwork for systemic change.  While not a substitute for good policy and healthy governance, it's a good start.
Punit Renjen, CEO of Deloitte Global, continues the discussion in a Boston Globe post,  The Purpose of Work:  Doing Well by Doing Good! He begins with a powerful statement, "Work must have a sense of purpose beyond mere financial gain; that to be meaningful, work should make a positive and lasting difference in the lives of others."   Renjen notes that the explosion in information sharing fostered by the internet and social media, coupled with advances in the areas of AI, automation and smart machine technology is fundamentally changing the contracts between businesses, their workers and the consumer. Meaningful work??????  Today many workers question their ability to survive, let alone compete and find meaning in this new environment.  So now what?  Renjen believes that it is no longer enough to simply have a good product.  Equally important is the company's purpose, the manner in which it treats and cares for its employees, and a demonstrated commitment to the broader community. By caring for its employees and engaging them in sustained efforts to give something back, the company enables its workforce to answer Franklin's second question and say, "At the end of the day, I'm going to make a difference that is bigger than anything I could have dome myself."  Now there is meaningful work!
Similar to Franklin's question was that posed by Dr. Martin Luther King Jr., "Life's most persistent and urgent question is, 'What are you doing for others?'"  Too often when people think of serving others, the images of large monetary and resource donations come immediately to mind.  There's no question that these can make a significant difference in the lives of others, but at its heart, service and doing good for others is more personal.  As I read this week I came upon a number of ideas that you can consider as you seek to do good for others.  Here are four:
• Smile – Sometimes a simple smile can brighten someone's day.  It communicates your positive attitude and desire to share it with others. Your smile holds the magic to change someone else's day for the better.
• Care Package/Brown Bag It – While at the store pick up a few items to pack for a quick brown bag lunch ( PB&J sandwich, protein bars, fruit) or mini-care package (deodorant, toothpaste, toothbrush, mini aftershave/perfume) that can be easily transported around till you run into someone in need.
• Mentor a Student – Perhaps there is a student at a local school who could benefit from your experience and guidance as they set out to discover their own talents.
• Volunteer and Give of your Time.  Perhaps there is a team you could coach, a child that could use a tutor, a soup kitchen that needs an extra hand, or an elderly neighbor who needs a visitor or help with a project. 
The list could be extensive, but its important to remember that when we serve others, do for others, pay it forward, whatever you want to call it, our actions serve to make each of us a better person.
As many of you know, Notre Dame football players high five a sign hanging in their locker room as they exit to the stadium.  It simply reads, "Play Like a Champion Today".  Let's replicate that tradition.  Cut out the image below and put it by your door or in your car.  Read it each morning and let it guide your actions for the rest of the day!