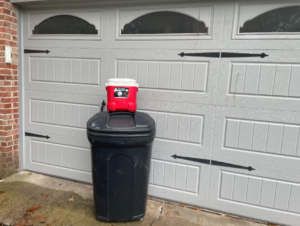 "Your good deeds might seem invisible,
but they leave a trail that is imprinted
on the hearts of others!"
I'm often asked how I'm able to continually come up with a different topic each week.  The answer is simple, it depends on the week. Sometimes it will be an event in which I personally participated.  Other times the post reflects my thoughts regarding something I read.  On several occasions a comment made by a family member or friend has inspired my writing.  And then there are those occasions when it's not until sometime on Sunday morning or early that afternoon that the inspiration is found.  Such was the case this week.
This morning, a post in the local "Nextdoor.com" news feed grabbed my attention.  The author had encountered a situation and was seeking advice on how to respond.  What sparked my interest was the nature of the "situation"; it was a good deed.  Apparently for the past few months someone has been bringing her empty garbage cans from the street back up to the house.  Recently she witnessed the event; watching as a car stopped, a young man quickly exited, ran the cans up the driveway and then drove off. Her question was simple: "What should I do?"
There were plenty of comments and reactions, and they covered the spectrum.  Many thought it was a wonderful gesture and that she was the beneficiary of a good samaritan.  In fact, there were others who had experienced the same event.  There seemed to be a consensus that the good samaritan was a local newspaper delivery person who was helping out his customers.  However there were also those who took a more cautious approach, and warned her that the house was being cased.  One even suggested she keep watch, record the license plate and turn it over to the police.  I smiled to think about the officer's possible response.
I connected with this story because our trash can has been brought back up our driveway each week for over a year now, however it is not being done by a neighbor or a good samaritan; one of the trash crew does it with a smile, a wave and a loud, "Thanks!".  They also give a toot on the air horn as they drive off.  You see, their good deed was precipitated by my wife's decision to do something nice for an essential worker.  Each week she leaves a small cooler by the trash can.  It contains three drinks and three individually wrapped bakery products.  She thought it was the least she could do to say thank-you to the crew that carts away everyone else's waste.  There was no intent to receive any special treatment and we continually ask them, "Please leave the trash can out there, we will get it."  They laugh and say okay; the trash can and cooler  continue to be brought up the drive.
Doing good deeds and witnessing them changes us.  Social psychologist Jonathan Haidt has dubbed this affect, "elevation," a term he uses to describe a condition defined as, "a warm, uplifting feeling that people experience when they see unexpected acts of human good­ness, kindness, courage, or compassion."  He proposes that when exposed to such conditions, people want to help others and become better versions of themselves.
Unfortunately our world is permeated by "news" that continually bombards us with the petty, cruel and selfish.  Life as witnessed through the media can create a false perception that human beings are doomed to continued rage, hate, violence and fear.  But sometimes all it takes is witnessing the kind thoughtfulness and actions of one individual or a group of people to reinforce our hope that people are more good than bad.  What will you do tomorrow to reinforce that hope, and when you think about it, whoever thought we would find hope in a trash can?
Embrace the Challenge