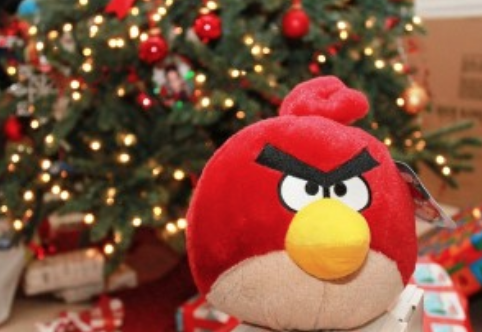 "Small Cheer and Merry Welcome Makes a Great Feast!"
                                                          – William Shakespeare
Today is December 9th.  For many, the next few weeks will be a challenge. In addition to business or organizational "year-end expectations", the weeks will be filled with family events, shopping, social gatherings, religious ceremonies and a host of other demands.  Is it any wonder that some call this the most stressful time of year?  So how can we avoid or lessen it during the holidays?Workplace stress is a common and costly problem for businesses.  The level of stress is often compounded by external factors during the busy holiday season.  What can we do at work for ourselves and our employees that will serve to reduce stress? "Insperity", a full services HR organization, suggests "10 Ways to Lessen Holiday Stress in the Workplace".  They include:
Say, "Om" Provide staff with fitness or meditation opportunities within the frame of the workday during the holidays. This can serve to reduce stress, and simultaneously heighten productivity.
Run Late – Starting the week after Thanksgiving and continuing through the week prior to Christmas, provide each staff member with one morning a week to arrive late. A change in routine helps keep them fresh and also helps them view you in a more positive light.
Lend a Hand – Ever think of bringing in a massage therapist. Provide staff with a chair massage at their work station.
Shop 'Till You Drop – One employer hired a personal shopper to help his staff complete their holiday shopping. What was needed? Lists and cash!
Let the Games Begin – Start a competition that lets off steam. One office staff brought in a "Wii Fit" and turned their shared workspace into a temporary bowling alley.
Take a Break – One employer provided his staff with certificates that could be turned in for two-hour "Holiday Breaks" that could extend a lunch or permit them to leave early and accomplish holiday tasks.
Get Moving – Encourage staff to move during the day. Have one department go sing Christmas Carols to another. Perhaps a holiday charity walk. Find an activity that gets staff out of the habit of sitting through the day.
Drink up – Drinking water reduces stress and promotes weight loss. Encourage employees to replace their soda, lattes and eggnog with water. Start a campaign to donate the money they would have spent on those beverages to charity.
Encourage laughter – Laughter reduces stress. Hold a "funniest holiday story" or "Ugly Holiday Sweater" competition and have employees vote on the best story or ugliest sweater.
Diversify – Santa doesn't bring all good children the same toy. Talk to you staff and listen carefully. Ask if they would prefer a gift, a bonus, or paid time off as their holiday reward. Their answers may surprise you.
Dr. Frank Lipman is a widely recognized leader in functional and integrative medicine, and a New York Times best-selling author. His post, "Seven Simple Strategies to Avoid Holiday Stress" provides some thoughts and reminders on how to manage the season, with more joy and less stress:
Eat Wisely and Well: The holidays provide us with an overabundance of sugar and alcohol; which serve to compromise our ability to fight off winter ills. Eat or drink plenty of greens, fill up on protein and healthy fats, and snack on low-sugar fruits like blueberries, blackberries and raspberries.
Be Kind to Your Body and Give it a Rest – The holidays are a marathon. To finish strong, you've got to treat your body in ways that will support health and allow for rest, repair and relaxation. Gift yourself with a body tune-up, be it a massage, steam room session or sauna time at the gym.
Take Your Brain on Vacation – Every day, step off the holiday merry-go-round for a few minutes. It could be a 5-minute yoga or meditation moment in the morning, a sunny park bench, or a church pew for a few moments in the afternoon or an evening meditation. Turning down the noise in and outside of your head will help keep stress levels from boiling over.
Move and Groove – Schedule exercise routines during the holidays, just like you would any other important event – just block out the time. Exercise is great for stress relief and can help put you in mildly euphoric state when mood and energy starts to flag. It doesn't have to be a gym workout. Try walking the neighborhood after dinner. Too snowy to stroll? Put on some music and dance around the living room to get in a few minutes of mood-boosting, stress-busting, low-impact cardio.
Plot Your Course and Don't Fear the "No" – Remember, you cannot do everything and do it well! Take several deep breaths and take a long hard look at the rest of this month. Draw up a list of the events and must-dos, and then say "No" to the others. Make sure to set aside nights for festivities and nights off, just for you and your family.
Know Your Triggers and Work Around Them – Take a few moments to identify what makes you unhappy during the holiday season – and figure out how to restructure the season so the things that get you down are less of a presence. Simplify by giving gift cards, particularly to teens and college age kids. Give smaller gifts to minimize January remorse, and recognize that the best gifts of all are usually free.
I want to end with Lipman's 7th tip, because it is something that not only helps reduce stress, but represents the spirit of the holidays; Remember Kindness and Spread Joy – Be conscious of how you treat others and how your behavior impacts theirs – remember, we are all in this life together. Create brief moments of simple, positive connection with others to spread good feeling that can lift spirits far beyond a single interaction (the opposite is true too, so be aware!). As Bishop Tutu once said, "My humanity is caught up in your humanity, and when your humanity is enhanced mine is enhanced as well,"
Embrace the Holiday Challenge!