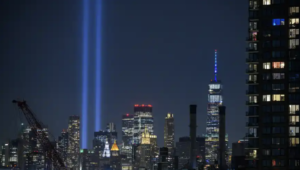 "No day shall erase you 
from the memory of time" – Virgil
Last evening a friend posted the following on Facebook:
Twenty-one years ago, millions of Americans went to bed quietly with no thought that the next morning their world would change forever.  That night, hundreds packed flight bags they would not live to open.  Thousands slept with loved ones for the last time.  One never knows what a new day has in store.  Let us live each day to the fullest and never miss a chance to let those dearest to us know of our love for them.  So TONIGHT if you have someone in your life that you love, Tell them!
This morning I served as Lector for the 8:00 service at my Church. I read the following as part of the Prayers of the People.
Gracious and loving God, on this anniversary of 9/11; as we grieve with those who still mourn, may we be stirred by your love and compassion for all. As we remember the innocent lives taken and those who bravely responded and gave their lives to save others, may we draw strength from their selfless sacrifice.  And as we remember strangers who became neighbors that day, sharing and caring for people they did not know, may it remind us of the call to be good Samaritans, reaching out across race and culture to others.  Lord in your mercy, Hear our prayer.
Later this morning I came across the following quotes
"I still have the shoes I wore to work that day. The soles are melted and they're caked in ash. I keep them in a shoebox with the word 'deliverance' written all around it. They're kind of like my ark, a reminder of God's presence and the life I owe to him." –   Stanley Praimnath, 9/11 Survivor
"I may never know the answers to the questions that plagued me after 9/11. But I know if we lean on God and each other we will be guided to a better, brighter future." – Michael Hingson, 9/11 Survivor
"It's the nature of the world that most people have moved on, but the people directly involved with 9/11, for them, twice a day it's 9/11." – Robert Reeg, Ground Zero Responder, Former FDNY Firefighter
"On September 11, I always take the day off. I want to be in a peaceful quiet place praying. It is a day I both mourn and celebrate." – Genelle Guzman-McMillan, 9/11 Survivor
"First responders live with 9/11 constantly.  It doesn't come back once a year. it comes back every day." –  Joseph Napoli, Ground Zero responder and retired FDNY firefighter.
"That warm, cloudless Sept. 11 morning, my husband, Michael, woke up happy and looking forward to earning his sailing certificate. He said, ' love you,' kissed me goodbye, and off he went to work at Eurobrokers on the 84th floor of the South Tower of the World Trade Center.  He called me twice, first saying calmly, 'Turn on the TV. A commuter plane has hit the building. Everything is fine and under control." The last thing he said was, 'People are jumping out of windows. I have to go.'  I went to bed a happily married newlywed and woke up the next day a widow." – Monica Iken-Murphy
"If we learn nothing else from this tragedy, we learn that life is short and there is no time for hate." – Sandy Dahl, Wife of United Flight 93 Pilot Jason Dahl
As time passes it becomes easy to let memories fade.  September 11, 2001 must remain a memory that we……
Never Forget