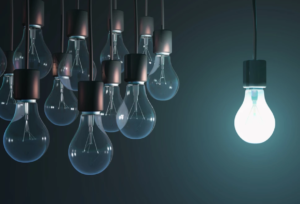 "It is not the strongest of the species that survives,

nor the most intelligent.

It is the one that is the most adaptable to change!"

                                                                                                          –  Charles Darwin
When I graduated from college (1973) I entered a world where change was almost predictable.  If I had questions about the future, I went to the source of all that was true and accurate, Harry (my father), who advised me, " Live your faith, work hard, be adaptable, and always put others first; everything else will take care of itself."  He was right! Today however, we live in a world where change is no longer predictable nor paced; it is constant, and the skills needed to lead and be successful must also change.  
Over the past ten years and into the foreseeable future the nature of work has and will continue to change dramatically.  According to a recent McKinsey study, currently demonstrated technologies could automate 45 percent of the activities people are paid to perform and in the near future, about 60 percent of all occupations could see 30 percent or more of their constituent activities automated.  Chris Westphall, a contributor to Forbes identifies skills that, while always associated with leadership, will take on even more importance and be prioritized as we continue into an era marked with an increased presence of automation and artificial intelligence. 
Creativity: In an effort to understand how our leaders are responding to a competitive and economic environment unlike anything that has come before, IBM interviewed CEO's worldwide.  The study, Capitalizing on Complexity revealed creativity to be the most important leadership quality for the future.  Creative leaders encourage experimentation throughout their organizations.  They also plan to make deeper business model changes to realize their strategies, take more calculated risks, and keep innovating in how they lead and communicate.

Innovation:  A second 2018 worldwide survey (21st CEO Survey:  The Anxious Optimist in the Corner Office), identified innovation as a second skill critical to 21st Century success. Today very few people work on an assembly line.  Work is no longer patterned.  Preparing for the future of work will require innovation. The "gig economy" is perhaps the best example, as millions of workers move easily from one worksite or opportunity to the next – offering different services and innovating for a variety of employers. 

Empathy:  According to studies carried out by Development Dimensions International (DDI), empathy is the biggest single leadership skill needed today.  Being able to listen and respond with empathy is overwhelmingly the one interaction skill that outshines all other leadership skills."  Other research has backed up DDI findings.  Dianne Crampton at Gonzaga University found that "Empathy is a universal team value that promotes high commitment and cooperation in the workplace."  Specifically it serves to:

Enhance loyalty

Heighten employee engagement

Promote collaboration

Improve workplace morale

Foster creativity

Listening:  Brigette Hyacinth, author of The Future of Leadership: Rise of Automation, Robotics and Artificial Intelligence believes that listening is the most important skill a leader can master.  It is the basis for many other leadership skills.  It requires us to be more present, attentive, engaged, patient and flexible. Good listening skills in this digital era, is fast becoming an endangered species. There is a difference between hearing what someone is saying and actually listening to them.  Listening means you are taking the perspective of others into account and truly considering what they have to say.

Grit:  Angela Duckworth, a professor at the University of PA identified, "Grit", a combination of passion and perseverance for a singularly important goal, as a characteristic of successful leaders and achievers.  Grit becomes that leadership skill that lets us carry our past failures forward and use them as we face new and even more challenging situations.  It is grit that reminds us that because of our past, we will be successful in the present and future.
Our ability to accurately predict the future is questionable at best.  However we are in a better position to predict our own behaviors and our approach to a challenging leadership environment.  The skills mentioned above, in and of themselves, will not guarantee your future success as a leader, but they will certainly enhance your ability to embrace the 21st century leadership challenge.  Keeping Harry's thoughts in mind won't hurt either.