The weather has certainly turned seasonal.  Are you beginning to get that Holiday Mindset?
The past two readings have examined the ideas of Authenticity and Mindset.  Last week we considered the concept of Innovative Mindset (How Do you Respond to a New Idea).  As you may recall, the authors cite four factors as contributing to an Innovation Mindset ; Curiosity, Ambiguity/Tolerance, Affirmative Judgement and Persistence. A powerful sentence concludes the article, "Innovation (within an organizational structure) doesn't happen without leadership!"
Likewise, two weeks ago we considered Lee Colan's thoughts on the importance of Authentic Leadership (How to Lead with Authenticity).  He reminded us that "Being who you are and being comfortable with that are the keys for today's successful leader."
So, have we discovered the Recipe for a Holiday Mindset?????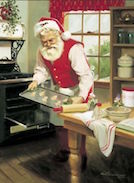 1.  Combine
One part Authenticity
One part Curiosity
One part Tolerance
One part Affirmative Judgement
One part Persistence
2.  Mix Thoroughly
3.  Watch Innovation rise……………….If only it was that easy!
While reading this week I came across another article that blends these ideas and introduces a third perspective, the impact of systems measurement and evaluation.  Written by Henry Doss, Authentic Leadership is the Key to Innovation, he begins with a powerful statement, "If your organization is struggling with innovation, …….there may be a simple reason: You are focusing on systems and processes rather than on the development and nurturing of powerful individual leaders.  And if that's true, you are almost certain to fail in creating innovation"
I'm going to end by para-phrasing a quote from former Secretary of Education Richard Riley……"We face challenging times! The top 10 in-demand jobs in the future don't exist today. We must prepare a workforce for jobs that don't yet exist, using technologies that haven't been invented,
in order to solve problems we don't even know are problems yet." Innovation is the key to that challenge. Let's work on perfecting that recipe.
Have a great week and
Embrace the Challenge,