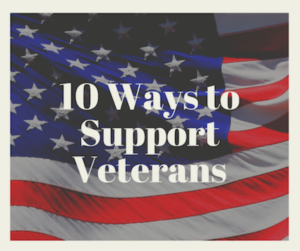 "Well sometimes that enemy is not just the enemy abroad for these heroes, sometimes that enemy follows them home."

– Mike Trymbiski,
Former US Army Ranger
2/75th Ranger Battalion
I'm sure you've heard the saying, "It takes a village to raise a child."   It's an African proverb that means that an entire community of people must provide for and interact positively with children if they are to experience and grow in a safe and healthy environment.  Who can argue with that?  Children are the most vulnerable and valuable members of any community, and as a society we are obligated to protect and care for them.  To do otherwise would be unthinkable!  So why do we limit our concern to children?  Shouldn't we express the same concern for all members of our community, especially our veterans, who have put their lives on hold, and in many cases risked their lives so we can enjoy our way of life?  It takes a village!
This past Friday I had the honor of delivering the invocation at a Veterans Day luncheon attended by well over 600 community members and Veterans.  This yearly event is organized by a small committee which includes Mike Trymbiski, a former Army Ranger.  Prior to the introduction of our main speaker, Mike took a few moments to share his thoughts on the importance of communities embracing and showing greater care for the lives of our veterans.  His words included a powerful message added to a stanza of the Ranger's Creed,  "I will never leave a fallen comrade to fall into the hands of the enemy" Mike continued, "Well sometimes that enemy is not just the enemy abroad for these heroes, sometimes that enemy follows them home.  It could be physical, emotional, mental, or all three that these veterans deal with every day. And they now need you to step up to the plate as their new brothers and sisters in arms.  Don't they deserve that after everything they've sacrificed for you and I?"  It takes a village! 
Mike's words struck me as they defined the challenge included in my invocation; Be with us as we strive to create communities that are good and safe enough to welcome them home, communities that help their souls to heal, communities within which they may know themselves to be both holy and whole. Mike's words also set the stage for remarks by our speaker.  While he touched on his combat experiences and his time in Washington DC, LTC North also spoke of the national need to provide greater support for our veterans, "Looking at the bigger picture, that support is also crucial to a country that relies on an all volunteer force to defend itself……By showing that you care about veterans, you just helped to improve the security of this country."  It takes a village!
According to the Bob Woodruff Foundation (BWF), veterans have been among the hardest-hit, with heightened health and economic threats from the pandemic. These veterans face homelessness, lack of health care, delays in receiving financial support and even death.  A 2020 White Paper published by the Foundation concluded, "Veterans return home to communities, not to governments, and it is at the community level where their success is determined."  So what can be done?  It takes a village!
There are a number of organizations that are working to improve conditions for our veterans.  Ten ideas follow with related links:
The need is evident, now we must simply answer the question , If not us who, and if not now, when?  IT TAKES A VILLAGE!
EMBRACE THE CHALLENGE !