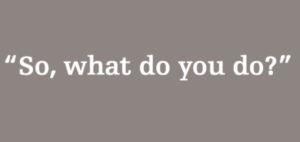 Do not let what you do determine who you are!
In our social interactions, the question, "What do you do?" is, perhaps second only to the inquiry, "How are you?"  Interestingly the response made by most people doesn't answer the question.  More often than not we categorize, "I'm a teacher, a lawyer, a waiter, a nurse, a truck driver, or my favorite, I'm retired!"  The assumption is simple, if you understand anything about the category into which my profession falls, you will know what I do.  However the question remains, "What do you do?
In an effort to provide greater specificity, titles are introduced;  "I'm VP of Marketing, I'm a Futures Analyst, I'm an Executive Chef, I'm GM for Talent Development."  Once again we make the assumption that if people understand the title, it conveys what we do.  It doesn't!  Like categorization, it simply creates a snapshot.  Simultaneously the understanding of what you do, becomes colored by the perceptions of others who have a similar job or title.  Equally important those perceptions carry over; too often, what you do becomes synonymous with who you are.
I want you to meet three of my friends.  Imagine you are meeting them for the first time and you ask, "What do you do?  "Which response answers the question, and makes you want to continue the conversation and learn more about them?
I'm Ed Burns, Vice President of Relationships at Burns Logistics. 

I'm Ed Burns.  I love connecting people, building relationships and inspiring great thinking.
I'm Luvleen Sidhu.  Founder and CEO of BankMobile Technologies, Inc.

I'm Luvleen Sidhu.  I'm on a mission to financially empower millions of Americans by providing a more affordable, transparent, and consumer-friendly banking experience. 

I'm Craig Poole, President of Reading Hospitality Management LLC.

I'm Craig Poole.  I believe it doesn't matter what you do, but whatever you do, do it well.  Do it so well that when people see you do it, they will want to come back and see you do it again and they will want to bring others to show them how well you do what you do.
I think most would agree that the second response from each person pulls you in.  Simon Sinek would liken these to "Why" statements!  They don't tell you what they do, or how they do it.  Rather they speak to the reason (their "why") they pursue their respective careers.   My point is, we are more than our profession.  When people ask us what we do, we assume the inquiry is in regard to how we earn our living.  Going immediately to the job categorization or title might be a great way to answer, "How do you pay the mortgage?", but it doesn't say anything about us!
What do you do, and equally important why do you do it?  Some  are very comfortable being identified through their career endeavors.  That's great, but I challenge you to go deeper.  What drives you, what is your "why".  Think of it this way, rather than letting your first statement define your vocation or career, begin with a value statement.  For example my friend Joel might say, "Ensuring that our supply chain is functional is a key to American prosperity.  I do my part every day to make that a reality; I'm a train engineer for Norfolk Southern."  His statement puts a whole different spin on it.  He not only tells you what he does, but why it is important to him!
When we die, only a small part of our obituary will identify where we worked and the titles we held.  It will be the manner in which we lived our life, the relationships we cultivated and what we gave back to our community and others for which we will be remembered.  It will be an altered question that is asked, "What did he do?"  Why not start answering it and spreading the word now?
Embrace the Challenge.