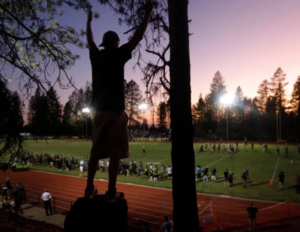 "Every new beginning comes

from some other beginning's end."
Friday evening, like countless others across our nation, I attended our high school's  opening football game. Fans wore their maroon and gold, we rang the stadium bell, the band played the alma mater and National Anthem, and the game was underway.  It was a beautiful late summer evening following a day of rain and gray skies.  Almost by divine providence the last rays of the sun lit the field as the opening kick-off initiated a new season.  Fours hours later, on the other side of our nation, another community would come together to watch its football team open the season, but in a game having much more significance. The Paradise High School Bobcats played the Williams' High School Yellow Jackets in their home opener.  High school football is a ritual here; this town of 27,000 virtually shuts down on Friday evenings during the season. This year was no different with over 5,000 attending the game, however there was one marked difference; it represented a homecoming, almost a family-like reunion for this community.  Last November, California's deadliest and most destructive wildfire, left 85 dead, destroyed almost 13,972 homes, 528 businesses, and 4,293 other buildings. It also left all but three of the town's football players homeless. The actual football field sustained no damage, but all four buildings surrounding it burnt to the ground.  The Paradise community came together Friday for the team's first game since the fires tore through their town.  It's a new beginning!
When you think about it, the challenges most of us face each day pale in comparison to what those in Paradise still endure.  Homes have yet to be rebuilt, businesses are starting over, and families are still coming to grips with the loss of loved ones. Some of the football players' families have taken residence as far as two hours away, yet the athletes remain at Paradise High School, living with friends during the week to lessen the commute.  Football is their constant. Anne Stears, the District Athletic Director, put it all into perspective, "This event shows how strong we are as a community, as a people, and how we have become a family. We are rebuilding and nothing will stand in our way. We are coming back fighting,"  
Paradise is a community to be admired for its strength, resilience, and faith, but of equal importance is their vision for a better tomorrow.  They are living the words of the late Jimmy Valvano, "Never quit!" For the players, students, parents and the broader community, each tomorrow will be a better day than yesterday.  Each day offers the opportunities to continue to build on a new beginning for this town.
This coming Monday morning, students in our school district will enjoy a new beginning as they return to start a new school year.  After they have taken the first day pictures, many of their parents will head to work, as Monday will mark the beginning of a new work week.  What is important to remember is that each dawn carries with it the opportunity to create a better life than we had yesterday. In essence, each new day marks a new beginning.  What we do with that opportunity rests with each one of us. As I think about those living in Paradise, CA and how they approach each day, I can't help but be inspired. Paradise High School won Friday night's game 42-0.  For the players and this community, it's a new season, it's a new beginning.  What will tomorrow be for you?  
Embrace the Challenge