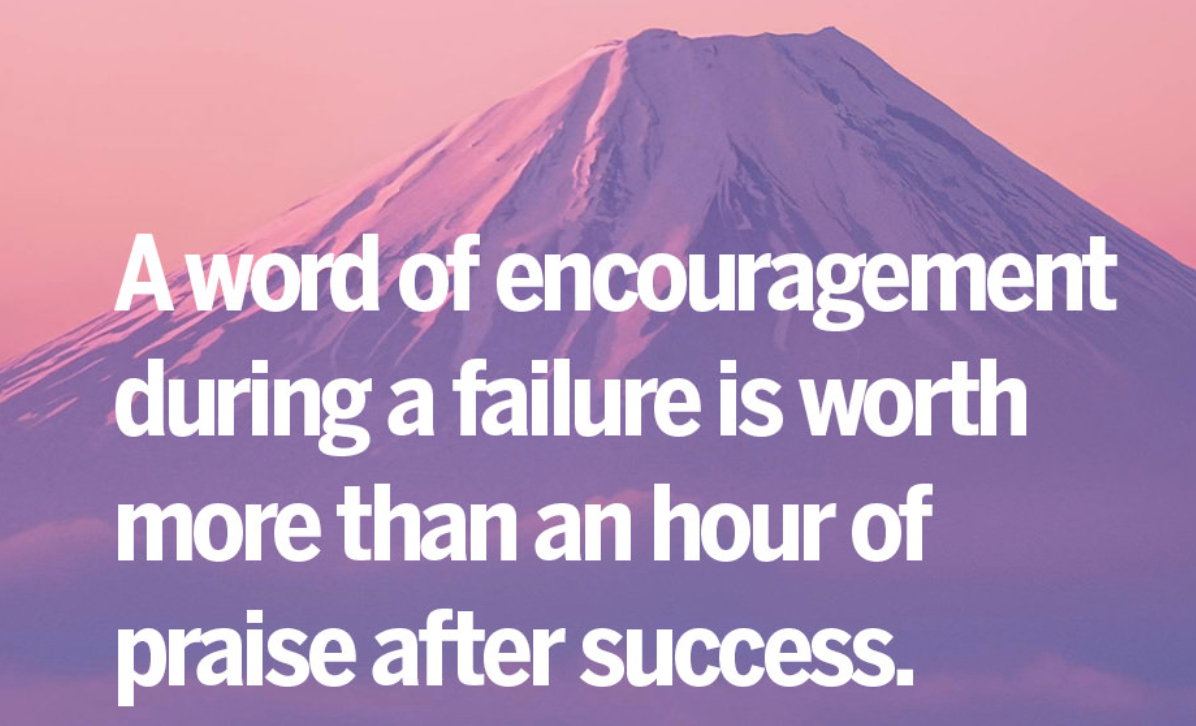 It finally feels like winter and the holiday seasons are here.  The cold north winds have dropped the temperature, the forecast includes the word, "snow", and the hustle and bustle associated with the holidays has begun.  For many, the next few weeks will be a whirlwind of activity that will include shopping, family get-togethers, travel, decorating, cooking, work functions, end-of-year goal attainment, and the list goes on and on!  When you think about it, you come to the realization that what should be the happiest time of the year can also be the most stressful.  For that reason, I think we could all use a little encouragement.
Encouragement can take many forms.  In it's very simplest form it can be a casual comment, " Have a great day!", or my personal favorite, "Embrace the Challenge!"  It can be inspiring words associated with a task at hand, "You can do this! or "Don't give up!"  Or, it can take a constructive approach for someone who is regaining their footing or confidence, "Remember, what doesn't kill you makes you stronger!" Encouragement is the simple gift we can give on a daily basis.  Let's consider how we can provide encouragement at work, with children and for ourselves!
In previous newsletters I've shared how organizational culture impacts workplace engagement, retention of skilled talent and ultimately the organization's performance.  So how does one create or sustain a "Culture of Encouragement" within an organization?  Beth Miller's addresses that question in her post entitled, 7 Ways to Sincerely Encourage Your Employees   Miller begins by differentiating encouragement from praise.  Simply put, the latter is provided when success has been achieved.  Praise follows performance and is associated with outcomes.  Encouragement on the other hand is the act of providing positive feedback that focuses on the effort or an improvement.  She believes encouragement to be both an art and science.  Effective encouragement is based on keen observation of body language, choice of words, and interaction with others.  Miller provides seven suggestions to foster an encouraging organizational culture:
1 Ask them what they need -Watch and listen for signs that an employee or colleague is becoming discouraged or frustrated.  Encouragement can start with the phrase, "How can I help?"  Sometimes all they need is to talk through the situation knowing they have an empathetic ear to listen.
2 Coach them to discover choices – Frustration emerges when we get stuck.  When you come upon a colleague or employee experiencing frustration, reinforce their confidence by reminding them of their ability to meet challenges head-on based on previous accomplishments, skills and behavior.  Ask questions that will serve to get them unstuck.  Ask questions that permit them to discover other viable options.
3 Recognize small incremental wins – Sometimes it may simply be signs of a new behavior or a better attitude.  Recognizing these small wins lets your colleague or employee know that you see the progress.  More important it reinforces that their efforts are paying off.  Celebrating small wins will lead to bigger celebrations later.
4 Thank them– Change and adjustment are difficult.  One of the most overlooked best leadership practices is simply thanking a colleague or employee for their efforts.  The thanks can be the opportunity to recognize their effort and encourage them to continue that effort to the finish!
5 Demonstrate your confidence in them – Don't keep your confidence in colleagues and employers to yourself. Practice encouragement during meetings.  Share small wins with others and ask that they also extend their congrats/encouragement.  As time progresses, mutual recognition and encouragement can become a natural part of the work environment.
6 Provide opportunities for "Stretch" assignments – Make sure that these opportunities provide higher levels of visibility. Build on an employee's pre-existing strengths, develop new skills, and assist advancement toward a desired role within the organization.
7 Help them get recognized by others – Become the advocate for your colleagues and employees.  Share their accomplishments within and when appropriate outside of the organization.
In closing Miller reminds us that encouragement starts with leadership that models and practices this trait.  Implemented consistently, the organization will quickly develop a culture of encouragement.
Encouraging colleagues and employees is one thing, but how about when we are home or working with children?  Having worked with students, athletes, my own son and now grandchildren, I have a good understanding of how words from a "significant" adult can be interpreted and serve to either foster or hinder behavior and motivation.  While reading I came across a great post entitled, "6 Ways to Use Encouraging Words for Kids". The authors begin by reminding us that the use of encouraging words/phrases such as; "Well done", " Good Job!", or You're so smart.", in and of themselves may not produce the desired motivation and may in fact be counter-productive.  The key is in how and when children are praised!  Six suggestions are provided for this purpose:
1 Praise Sincerely and Honestly – We sometimes encourage/praise our children to give them that shot of self-esteem, motivation, or protection from hurt feelings.  The problem?  Insincere praise can be harmful, especially if is is inconsistent with the self-view of the child.
◦ Broad Praise:  "You played lake an All-Star!" (Child knows they struck out three times, walked and had a home run)
◦ Specific Praise:  "That home run was a great way to end the game."
2 Be Specific and Descriptive – Descriptive and specific encouragement/praise serves to foster understanding of what was done well
◦ Broad:  "You did awesome!"
◦ Specific:  "The way you closed your speech really brought all your ideas together!"
3 Praise Effort and Process, Not Ability – Encouraging/Praising effort serves to foster the development of a "Growth Mindset", that believes in practicing and improving skills.  Ability encouragement/praise sends a message that success is tied to certain traits.  Process encouragement/praise can include qualities such as strategies, thoughtfulness, concentration, self-correction, etc.
◦ Ability Praise:  "You are a great puzzle-solver."
◦ Process Encouragement:  "Your strategy of working from the edges in tells me you could be a great puzzle solver!"
4 Avoid Controlling or Conditional Encouragement/Praise – Controlling or conditional  praise is given with the desire to manipulate or control.  It serves to instill a contingent sense of self-worth in kids that can lead to risk-taking avoidance
◦ Controlling/Conditional Praise:  "Just as I expected, you won both events!"
◦ Process Encouragement/Praise:  "You worked hard and your efforts paid off.  Congratulations for winning both events!"
5 Avoid Comparison Praise – It's easy to fall into the comparison trap.  At times comparisons can work  to motivate us, but they can backfire when we fail.  Kids who receive encouragement/praise through a comparative approach don't stop comparing when they fail.  Instead, they lose motivation faster.  They actually become less resilient.
◦ Comparative Praise:  "You won!  You are so good, just like your sister was!"
◦ Focused Encouragement/Praise:  "You had a great round, especially your putting, you did a great job reading the greens!"  Congrats on the win!
6 Avoid Easy-Task Praise or Over-Task Praise – There can be multiple negative impacts for easy or over-praise.  The words can come across as insincere.  Praising or providing encouraging words to easily completed tasks can signal lower expectations.  When words of encouragement are given unexpectedly, it can be very motivating.
Remember, encouraging words and praise can be a double-edged sword, but using it correctly can be a very powerful motivating force and tool.
So we've considered the use of encouragement at work and with the kids, but what about YOU!  Who encourages you on a daily basis?  Well, it simply takes eight friends or a few less filling multiple roles. Eric Barker, author of the NY Times Best-seller, Barking Up the Wrong Tree, shares his insights in his recent post, The 8 Kinds of Friends You Need to be Happy in Life   Barker starts with two questions and an answer, "Do your friends sometimes disappoint you?  Ever feel like there is something missing in your relationships?  You are not alone!"  His post considers the survey research of Rath and Gallup (Vital Friends:  The People You Can't Afford to Live Without).  It turns out that there are eight types of vital friends (I think of them as "Encouragers.").  Likewise each of us fall into one of the roles for those with whom we are friends.  Which are you?
• The Builder – The friend who encourages you to take it to the next level
• The Champion – The friend whose encouragement can serve to make you blush
• The Collaborator – The friend who not only encourages, but rolls up their sleeves and is right there in the midst of it with you.
• The Companion – The friend who not only encourages you, but is there when all others have left.  Put simply, your best friend!
• The Connector – The friend who encourages you to get out there and meet others, to network
• The Energizer – The fun-person with endless energy.  They encourage you with their presence alone!
• The Mind-Opener – The friend who encourages you by getting you to question your assumptions or look at things from another perspective.
• The Navigator – The friend who encourages you by being a sounding board, mentor, or GPS on the highway of life.
So which friend are you and how will you provide those surrounding you with some encouragement this week.  Remember, as much as each one of us need encouragement, we are surrounded by others who may need it more.  Have a great week and Embrace the Challenge!