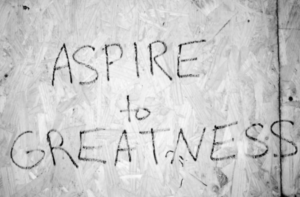 "Our Aspirations are Our Possibilities"

                                                              – Robert Browning
Why would one aspire to lead?  Perhaps you are the type of person that enjoys working with and leading others in the pursuit of goals beyond the capabilities of a single person.  Maybe, like a master gardener, you've got that green thumb that helps people and organizations thrive.  To you leadership is about helping and serving others.  In his 2010 TedxToronto presentation, Drew Dudley shares, "…we have made leadership into something bigger than us; something beyond us.  We've made leadership about changing the world, and there is no world.  There's only six billion understandings of it.  And if you change one person's understanding of what they're capable of, understanding of how much people care about them, understanding of how powerful an agent for change they can be in this world, you've changed the whole thing."  You see leadership is never about you, leadership is how you help others and the organizations you work with become better; leadership is about developing a "Culture of Aspiration".
An organization's culture expresses goals through values and beliefs, and guides activity through shared assumptions and group norms.  Cultures are shared, pervasive, enduring, and implicit. Ultimately it is the culture of an organization that will determine its long-term success.  But cultures cannot be static, the world changes.  Even the very best organizational culture can be enhanced and improved.  So how do we create a "Culture of Aspiration" that not only serves to achieve organizational goals, but also facilitates the transmission of the aspiration across the organization?  It begins with leadership that aspires to create an organizational culture which serves the customers, clients, employees, and the greater community.  
The concept of cultural aspiration is considered in McKinsey and Company's recent post entitled, Set your Cultural Aspiration With These Four Steps.  The authors share the story of a new CEO hired to head a multinational organization, only to discover that he has inherited a crumbling empire complete with; declining performance, unsuccessful product launches, leader infighting, and a complete lack of strategic direction.  His solution?  Listen, listen, listen. Rather than pouring over financials, initiating market analysis studies, and/or developing a new strategic plan, his first move was to reach out and listen to hundreds of people at all levels of the organization.  This information then became the basis to establish a new, organization-wide aspiration designed to address both business performance and culture.  His recipe was simple.
The first step is:  Align the organization with a successful cultural recipe.  Leaders can select from a set of complementary behaviors that have an outsized impact on building a performance culture; these might include being a leadership factory, a market shaper, an execution edge, or a knowledge core.  Leadership then orchestrates organization-wide conversations around the behaviors that best fits their organization's industry and organizational strategy.
The second step is:  Prioritize critical behaviors.  Once aligned on a cultural recipe, select 4-10 behaviors to emphasize.  Four management "power practices" identified by McKinsey and Company include—personal ownership, role clarity, strategic clarity, and competitive insights.  These were felt to be important because they have a multiplier effect on the culture.  It is critical that leaders at all levels of the organization both fix the broken practices and build on the core behavioral strengths of the organization. 
The third step is:  Agree on the cultural themes.  The selected practices can then be grouped into cultural themes that embody the organization's mission, vision, values, and purpose.  These themes guide the decision-making process of employees at all levels—from the CEO to the front line.  These themes reflect and signal the core commitments, which will help galvanize the whole workforce to build the organization's culture. (Ex:  Trust and Transparency, Valuing Diversity, Acknowledging Employee Growth Potential, etc.)
The final step is:  Set behavioral expectations for everyone.  This is about translating the prioritized behaviors into a language that employees at all levels of the organization can understand and relate to.  This leadership model becomes the articulation of cultural aspiration specific to that organization.  Team members can then select a few behaviors—around 3-5—to focus on each year. 
Cultural aspiration can serve to excite and engage staff across the organization, unlocking creativity and innovation.  Culture is what attracts and keeps talent, but culture's impact goes beyond talent.  Culture can permeate processes and vital interactions between co-workers with customers, suppliers and the broader community.  Cultural aspiration can serve to create team members who are there to connect both with each other and with the organization's mission — and that's the kind of commitment that drives sustainable results and organizational success.
Embrace the Challenge