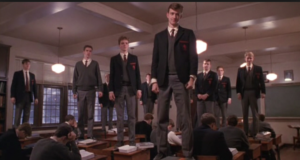 "People do not decide
to become extraordinary.
They decide to accomplish
extraordinary things!"

                                                            – Sir Edmund Hillary
"Carpe Diem", is a phrase popularized through the 1989 film, "Dead Poets Society", in which the late Robin Williams portrays John Keating, a fictional English teacher at an all-male, elite, conservative, prep school in Vermont.  Keating, an alumnus of the same school brought an unorthodox teaching style to this conservative institution; a style that eventually led to his dismissal.  Before leaving however, he has a profound effect on the young men in his class by encouraging them to "make your lives extraordinary", a sentiment he summarizes with the Latin expression "Carpe Diem", meaning "Seize the Day."  So here's my question, what are you doing to begin or continue to make your life extraordinary?  How are you seizing this day?
I begin mine with a simple routine that really puts things in perspective and, at least for me, sets the tone for the day.  I begin with a "thanks" to my creator, an acknowledgement if your will, to the one who gave me life and to whom I will one day return.  Once the morning basics (shower, breakfast, etc.) are completed, I continue with my thanks by preparing a hand-written thank-you note to someone who has served to make my life just a little better than it was previously. The routine is completed through a morning entry in my daily journal providing three responses for each of the following statements:
I am grateful for….
What would make today great?
Daily Affirmations, I am…….
I go into my day grateful for all I have and with positive expectations of what will be revealed as the day unfolds.  I also know that before going to bed I will again open the journal and provide responses to prompts that encourage me to reflect on the great things that happened today and my responsibility to improve on each day's efforts:
Three (3) amazing things that happened today…….
Two ways I could have made today better…….
In essence I use the beginning of each day to be grateful for the opportunities I seized and to remind myself of the opportunities ahead.  I end the day reflecting on what was accomplished and how I could even do better in the future. The great part about "seizing the day" and making your life extraordinary is that there is no one path.  What works for me does just that, it works for me!  It may not work for you; our lives are different.
Is my life extraordinary?  Not yet, but I'm on the path.  Life is a journey and there are many stops along the way; I will move on quickly from some and linger at others, but each day I will embrace the opportunities afforded and do everything I can to make this a great day for myself and others.  
At the end of my life I'm sure I will look back with some regret on a road not taken or an opportunity missed, but I will also know that the roads traveled were enjoyed and the opportunities seized shaped my life.  The choices were mine and I chose to, "Embrace the Challenge". What choice will you make? How will you "Seize the Day"