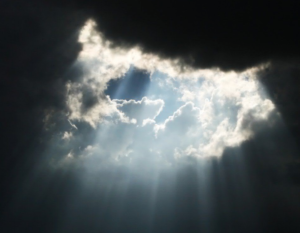 "Even the darkest night will end,

And the sun will rise."

                                    – Victor Hugo
If you haven't figured it out by now, I love to play golf.  I'm not a great golfer, but I'm not that bad either; I can hold my own!  This past week I enjoyed an early round with three friends.  It was a warm sunny morning and we all had great aspirations as we hit from the first tee.  Needless to say, any thought of shooting even par became less realistic with each hole played.  On the sixth hole John hit an errant tee shot that cleared a ravine, but came to rest on a steep hillside in deep rough.  As we got into the carts he said, "The good news is it's close to the cart path!"  John looked for and found the sunshine! Later in that same round two of my three partners faced a long downhill chip to make par, the third simply had a long putt (I was already in with a bogey).   Rich hit his shot, it rolled toward the hole and we all yelled "Hit the stick!"  It did and dropped in the hole. We all laughed. John chipped next, his ball following a similar line. We yelled again, "Hit the stick!" It did and dropped in the hole. Tyler was the last to go.  He had a twenty foot putt following a similar line.  The moment he hit the ball we chorused, "Hit the stick!", and sure enough it dropped in the hole.  We found a lot of sunshine and laughter that morning.  So why should it only happen on a golf course, or when we are pursuing other recreational activities?  Shouldn't we make finding sunshine a part of our daily existence?
In her book, Daring Greatly, Brene' Brown reminds us that it is only through being vulnerable that we can find courage.  Likewise, we cannot fully appreciate the warmth of a sun-filled day without experiencing one that is cold and filled with dark clouds.  No less is true with our lives; we will have our moments of great happiness and those filled with deep sorrow.  Days when everything goes right and those that make us wish we had never waken.  Some might refer to these as our moments of sunshine and periods of darkness. What is important to remember is that both serve as great teachers, and it is often through darkness that we learn those lessons that will serve as the basis for our success and sun-filled days.
Dr. Diana Rabb is a speaker, educator, survivor, and author of Writing for Bliss:  A Seven-Step Plan for Telling Your Story and Transforming Your Life.  In her book she considers the challenges we each face daily in balancing the light and dark in our lives.  Our uniqueness enables some of us to move on quickly after a dark moment or set-back, while others will linger, spending time and energy in the darkness, and putting the light of future efforts on the back burner.  The key is to be found in a balance; using the dark times to learn, but focusing on the light and moving forward.  How?   Some suggestions she shares include:
Be grateful and expressing gratitude.
Be patient with yourself.
Reach out to others.
Choose your battles carefully.
Have courage.
Be vigilant in all aspects of your life.
Have the confidence to say, "I am better than that."
Get support and help from friends and healers.
Be aware of your resistance to change.
Be fearless about banishing negativity from your life.
We will all have dark moments in our lives.  Some will be as simple as one of my drives finding a fairway bunker.  Others will be more complex, challenging and drain us emotionally.  What is important to remember is that in every dark moment and in every sun-filled experience there is a lesson to be learned, and it is in these moments that we grow and become a better version of ourselves. 
This coming week's local weather forecast predicts bright sun and warm temperatures. While there may be the occasional evening rain shower or thunderstorm, the clouds will eventually give way to sunny skies.  Hopefully the forecast for your life next week is much the same; make it a point to find the sunshine!
Embrace the Challenge