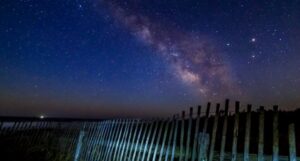 "The more you lose yourself in something bigger than yourself, the more energy you will have!"  – N.V Peale
Four years ago, one of my most vivid vacation memories was sitting on the beach and watching a full moon light the Nantucket Sound.  Everything glowed in the bright moonlight and even the dune grasses seemed to shimmer.  The only sound to be heard was that of small waves finishing their journey to the shoreline.  I did a lot of thinking and reflection that evening.  The same thing occurred again this year, but there was no moon as it was the evening of the New Moon.  The beach was dark, as were the waters of the Sound, but being able to see the Milky Way was incredible.  Sitting on that beach, looking at the stars, one comes to realize that there is so much out there that is bigger than us.  In fact it would be easy to succumb to a sense of insignificance, but I feel otherwise.  For me, it was a sign that reinforced a recent decision to become part of something bigger than myself.
A few weeks ago I had the honor of participating in an event that distributes funds, raised through an annual luncheon, to six local Veterans service organizations.  All are very worthwhile and provide incredible support to our Vets and their families, but it was the heart-warming thanks and insights from the Mission 22 representative that I carried with me following the ceremony.
A 2013 study done by the United States Department of Veteran Affairs revealed that 22 Veterans lose their lives daily as a result of suicide.  Mission 22 is a national community supporting active service members, Veterans, and their family members, through three areas of focus:
Support and Treatment Programs – For active service members, Veterans, and their family members, addressing Post-Traumatic Stress, Traumatic Brain Injury, suicide risk and other challenges.

Social Impact – Uniting civilians and the military community to raise awareness of issues that active service members, veterans, and their family members face.

Memorials – Remembering and honoring service members and Veterans through large scale installations and digital initiatives, while raising awareness for issues faced on home soil.
I find it unconscionable that Veterans, many of whom put their lives on hold and risked their lives for this country, still have difficulty accessing the mental health services they need and deserve.  Like so many other things, funding is the issue.  This is where I can become part of something bigger than myself.
This month (July, '22) I have challenged myself to complete 2200 push-ups and 2200 sit-ups (the second part is optional, but needed) to raise funds that will support the work of the Mission 22 organization. Information regarding this fund-raiser is posted on my Facebook page (https://www.facebook.com/donate/424313329604182/).  If 100 people agree to pledge a penny/push-up, I can raise $2200 to support this cause.  Hopefully others will embrace this challenge not only because it supports a wonderful cause, but because it feels good to be part of something bigger than yourself.
EMBRACE THE CHALLENGE